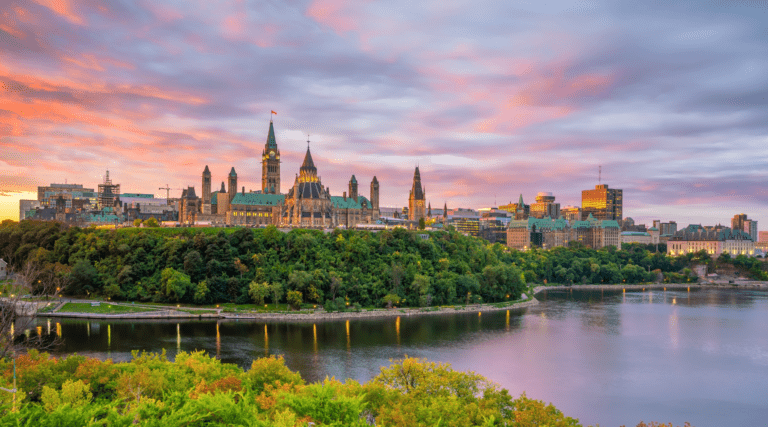 All About Ottawa
Ottawa, the capital city of Canada, has a rich and diverse history that stretches back centuries. The area was inhabited by Indigenous peoples for thousands of years, with the Algonquin people being the region's original inhabitants. In the early 19th century, Ottawa emerged as an important trading center, thanks to its strategic location along the Ottawa River. 
In 1857, Queen Victoria selected Ottawa as the capital of the United Province of Canada, a decision driven by its location between the rival cities of Toronto and Montreal. The construction of the iconic Parliament Buildings started soon after, solidifying Ottawa's status as the country's political power seat. 
Over the years, Ottawa has evolved into a vibrant and multicultural city, blending its historic charm with modern amenities and becoming an important center for government, culture, and education in Canada.
Living and Working in Ottawa
Living and working in Ottawa offers a unique and fulfilling experience. The city boasts a high standard of living, with a diverse range of neighborhoods that cater to different lifestyles. Ottawa has something for everyone, whether you prefer the vibrant downtown core or the quieter suburbs. 
The city is renowned for its clean streets, excellent healthcare system, and a strong emphasis on education. Ottawa is also home to numerous employment opportunities in technology, government, finance, and healthcare. With a thriving job market and a low unemployment rate, professionals find ample career prospects in the city. 
Beyond work, Ottawa offers a rich cultural scene with world-class museums, galleries, and theaters. The city is also known for its stunning green spaces, including the iconic Rideau Canal and Gatineau Park, providing ample opportunities for outdoor activities. Ottawa's diverse culinary scene, festivals, and recreational activities contribute to a vibrant social life. Living and working in Ottawa provides a balanced and fulfilling lifestyle and a strong sense of community.
Horizons Dental Care in Westboro,Ottawa
Established in the heart of Ottawa, our dental practice is committed to providing exceptional oral care to the community of Westboro. Our highly skilled dental team strives to create a comfortable and welcoming environment for our patients. Our state-of-the-art facility has the latest dental technology, ensuring we deliver the highest dental services. 
From routine check-ups and cleanings to cosmetic dental procedures and restorative treatments, our practice offers a comprehensive range of dental solutions tailored to each patient's unique needs. We prioritize patient education and empower individuals to make informed decisions about their oral health. 
We are passionate about delivering personalized care, building long-lasting relationships, and helping our patients achieve optimal dental health. We are proud to serve the community of Westboro and be a trusted partner in maintaining healthy smiles for individuals and families. Come see us today to find out why some consider us the best dentist in Ottawa.
Canadian Museum of Nature Near Horizons Dental Care
Located just a short 13-minute drive from Horizons Dental Care, the Canadian Museum of Nature is a captivating destination to explore after your dental appointment. This renowned museum offers an array of fascinating exhibits that are sure to engage visitors of all ages. 
Discover the wonders of the natural world as you wander through exhibits showcasing dinosaurs, fossils, minerals, and Canadian wildlife. Step into the enchanting Bird Gallery, where you can admire a vast collection of bird specimens from across the globe. 
The museum also boasts a captivating Earth Gallery, featuring interactive displays that delve into the geology and formation of our planet. For those seeking hands-on experience, the Nature Live area offers interactive workshops and demonstrations. 
After immersing yourself in the wonders of nature, take a leisurely stroll through the picturesque gardens surrounding the museum or enjoy a picnic on the nearby grounds. The Canadian Museum of Nature provides the perfect opportunity for an enriching and enjoyable post-dental appointment experience.